Solutions for:
Logistics and supply chains.
We develop digital solutions to optimize supply chains, order picking and training.
Smart solutions for optimized logistics.
Innovating on a logistical level: the road to Industry 4.0.
A successful supply chain requires flexibility. Logistical processes are becoming increasingly complex and need to be operational 24 hours a day. There is plenty of room for innovation, but what kind of technology is yours to use? Enversed Studios offers solutions that support your logistics, supply chains, process optimizations, maintenances and training courses.
Logistical opportunities for:
HR managers
Improve onboarding campaigns to attract talent.
Operations managers
Actively prevent accidents in any workplace.
Logistical managers
Increase the productivity of order picking.
Project managers
Optimize factory designs by using lifelike simulations.
Welcoming new employees as efficient and immersive as possible.
A successful onboarding campaign with 360° tours.
Finding the right talent can become quite a challenge these days. On average, it costs about 62 days and over 4,500 euros to attract a new employee. Enversed Studios offers various products that support your recruitment campaign. Think about our 360° onboarding videos for example. These tours are perfect to visualize a corporate culture in an immersive experience, and to show your workplace to candidates.
Introduce employees to complex operations in a safe environment.
Train procedures without downtime or resources.
Thanks to Virtual Reality training courses, your employees can be trained at any time at any place. This is especially useful for practicing skills based on maintenance, repairing or problem solving. Because all courses are simulated, you no longer have to deal with travel costs, operational downtime or the availability of locations. In addition, research shows that VR training courses have almost twice as much impact as any video.
Design, simulate and check production lines before they are even built.
Avoid setbacks by using a factory simulation.
A well-thought-out factory design ensures streamlined logistics. It's not easy to predict all of the bottlenecks and weaknesses of a future workplace, factory or production plant. Fortunately, you can prevent unnecessary downtime by using our interactive VR simulations. These allow you to design, simulate and check production lines before they are even built. Simulation can be experiences with and without a VR headset.
Support warehouse employees with visual instructions and guidance.
Optimize order picking by using Smart Manuals.
On average, most of the warehouse costs come from order picking because these tasks are performed manually. Augmented and Mixed Reality offer support in optimizing order picking processes. For example, you can guide employees to a specific product by showing them the fastest route. These visualizations are displayed on tablets or wearable headsets. Thanks to tools like these, you're able to increase productivity by more than 25%.
How is Virtual or Mixed Reality able to help you improve your logistics?
A supply chain should be based on process optimization. There are many ways in which we can support your supply chain. Depending on your organization, goals and wishes, we can recommend one of our tools or experiences: from VR simulations to Smart Manuals. Each medium has its own advantages and disadvantages. Get inspired by our products below.
360° tours and onboarding videos.
In a 360° tour, candidates are shown around the building where they can meet new colleagues and experience the business process. This way, they become immersed on a personal level. Virtuals tours can designed as a pre-programmed presentation or can be experienced at someone's own pace.
Virtual Reality maintenance training.
Virtual Reality is extremely powerful in visualizing cause and effect. That's why this medium is perfect to use for practicing maintenance skills. Employees don't just learn which actions should be performed, but also how these actions should be performed. Everything is digital so you'll no longer have to worry about downtime or resources.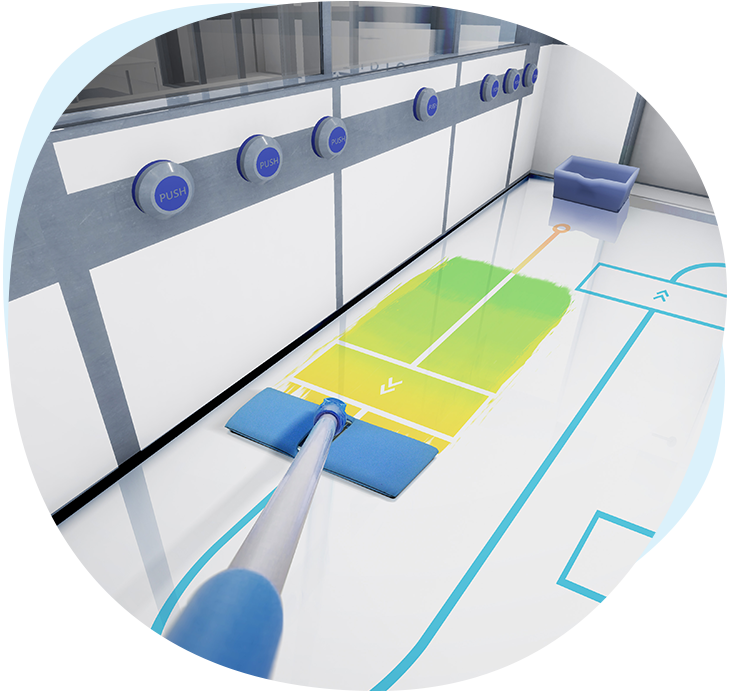 Smart Manuals and visual work instructions.
Augmented and Mixed Reality offer great opportunities to the logistics sector. It can support employees to carry out work faster with fewer complications. For example, you can use a Smart Manual for maintenance, repairing or order picking. Smart Manuals are tools that provide animated, step-by-step support during any task.
VR visualizations and simulations.
Thanks to Virtual Reality, you can visualize and simulate all of your plans. For example, you can detect design errors before a warehouse is even built. It's also possible to simulate machines by using Digital Twins. Implementing these tools allows your logistical processes to become much more transparent.
Innovation is not just a project, it's a process. Our goal is to develop sustainable solutions for the logistics sector. We can help you optimize your production lines and distribution. In addition, we offer tools that will improve your training courses and onboarding programs. Whether you're facing major or minor challenges, we are here to advise and help you with a sustainable solution that works best for your business model.
Curious about
the possibilities?
You are looking for a partner who is involved in your business process. A studio that can filter the latest technologies and translate them into valuable solutions for today and tomorrow. Make an appointment for a free consultation or call us to discuss the possibilities that serve your business. We would love to hear from you!