We develop interactive learning solutions that support your organization. Discover what virtual reality, augmented reality and serious games can mean for you.
Benefits of virtual trainings
What can virtual trainings mean for you?
Gamification and XR technology is rapidly transforming the way we work and learn. We aspire to pioneer this development, by creating high-end applications that outperform contemporary methods and techniques.
Higher learning gain
Participants can benefit from an improved learning yield through interactive learning. And they can learn from making mistakes, without risks or costs of failure.
Cost efficiency
You can save on operational training expenses and facility costs, reduce machine down-time, and lower your environmental footprint.
Data intelligence
You can track and transform data into valuable insights to improve business processes. And provide live feedback on the spot.
Our game-driven solutions can help your training and education programmes evolve to new levels. Whether you want to improve learning and development among your own employees, or you want to expand your assortment as a training provider.
What are the possibilities?
There's more than one way to improve learning, such as VR trainings, AR smart manuals or serious games. Each has their own distinct advantages and uses. Depending on your organization, goals and wishes, we can recommend one of our solutions. Get inspired by our most common training solutions below.
With VR, participants can improve their skills and knowledge within fully simulated scenarios. That way, they can gain hands-on experience in lifelike environments of your choosing, without material costs or machine downtime. Participants can train alone or work together, using multiplayer capabilities to improve teamwork and collaboration.
Additionally, productive failure allows users to learn from making mistakes, without risks. This improved method of learning gives participants more insight into cause-and-effect relationships and lets them experience calamities and emergencies up close., without facing any real-life dangers.
Showcase – BHVR is an extensive emergency response (ERO) training in VR, that we've created together with B&V Partners in Veiligheid. Learn more (in Dutch).
Serious games present many opportunities as a way of interactive learning. They can help get the creative juices flowing for your brainstorm sessions, or turn teambuilding exercises into fun, memorable experiences. But they're especially great for experimenting with complicated decision-making processes.
By simulating decision-making processes in a game, participants can safely experience the consequences of their actions, learn from cause-and-effect, and turn ideas into valuable business insights.
Coming soon – We're working on a workshop game with Brainport Eindhoven, meant to give players insight into the innovation process of manufacturing companies.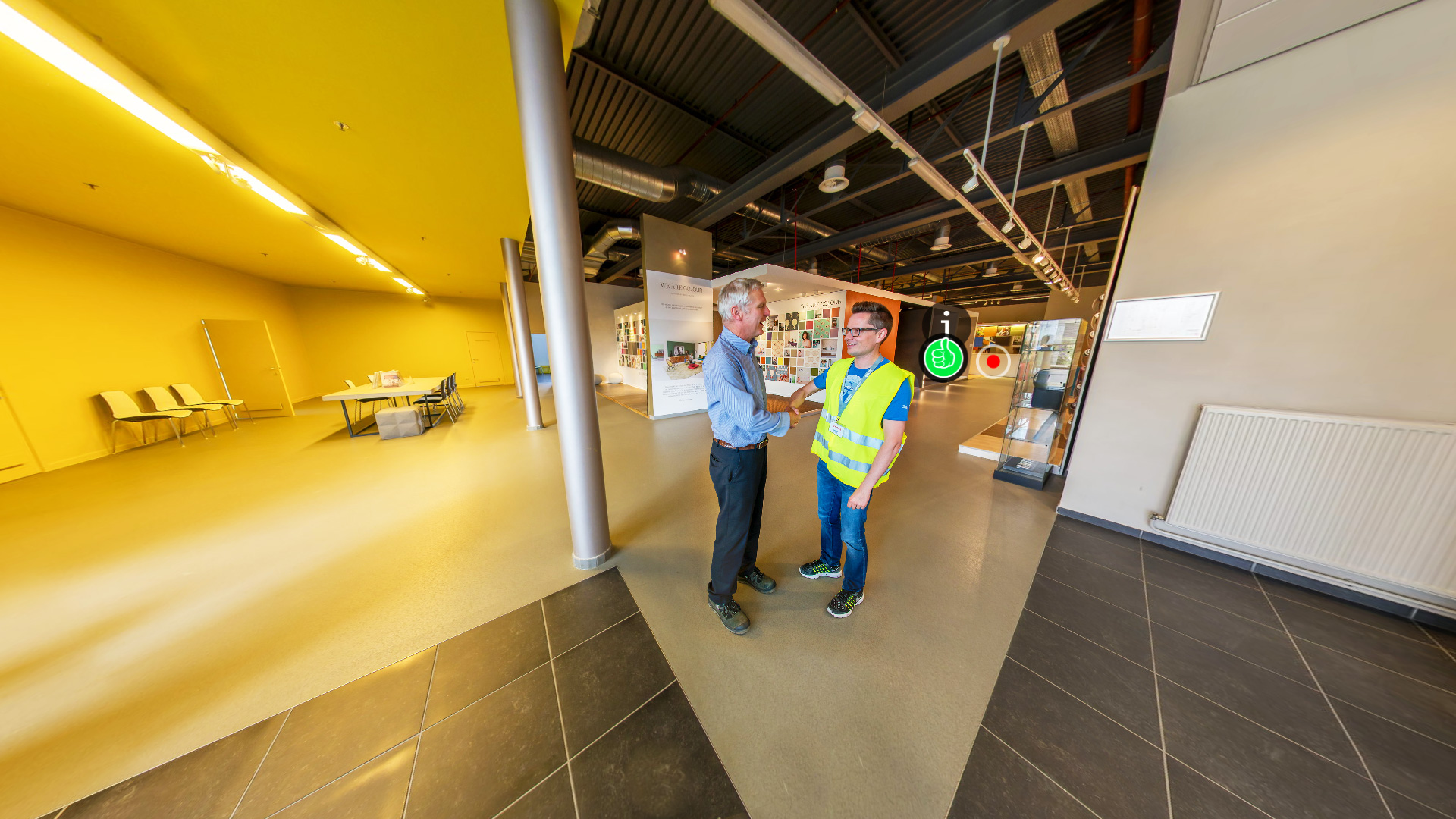 Need to vet candidates? Get new employees up to speed? Or instruct contractors and suppliers on on-site rules and navigation? Our intake and onboarding solutions can help you do just that.
From 360° guided tours with interactive content of your choosing, to certifiable assessments and virtual gate instructions. Each offers users an interactive way to learn more about your organization and protocols, and discover whether they'll be a good match. Meanwhile, you can use live feedback and dashboard insights to make hiring decisions or substantiate follow-up meetings.
Coming soon – We're currently working with a partner in the petrochemical sector to create an SCC-based intake for new employees.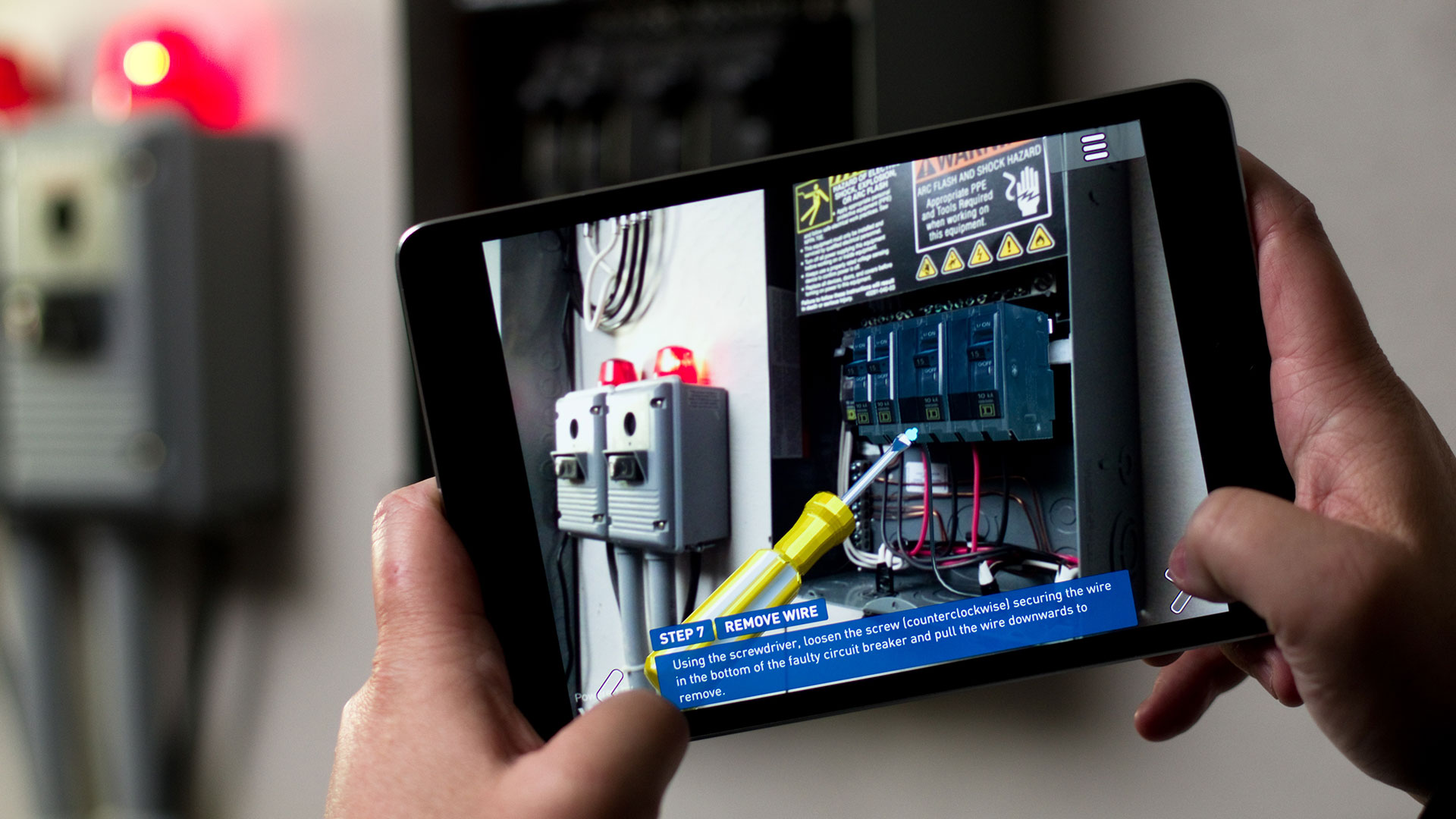 If your organization values operational efficiency, Augmented Reality is something to look out for.
AR wearables offer your employees' contextual support, while leaving their hands completely free to perform tasks. That way, employees could use them to examine real-time information, such as a machine's status or supply quantities, or to follow pre-programmed instructions for installations, maintenance or repairs. Alternatively, AR could put them in direct contact with an expert or technician, when a more personal touch is required. That makes these tools perfect for operational tasks involving complicated work processes – such as in healthcare, manufacturing, order picking, repair and maintenance.
Innovation is not just a project, it's a process. And we'd like to be there, at your side, from start to finish. To give advice, or help you strategize. To develop and realize your vision. And to maintain and update your digital solution. We can help you create a sustainable solution that empowers your business model.
Let's explore

the possibilities
Are you looking for a partner who is involved in your business aspirations? As a studio, we can filter the latest technologies and translate them into valuable, sustainable solutions for you. Make an appointment for a free consultation or call us to discuss the possibilities. We're looking forward to meeting you!