https://www.youtube.com/watch?v=nGU00CzicSo
Virtual Reality
Escape Games.
Strap yourself in! This year, Enversed Studios will start publishing VR Escape Games for entertainment venues. These experiences will become exclusively available in selected locations, such as Escape Rooms, VR Arcades and theme parks. Are you ready for some next-gen entertainment?
Register now!
More info
About our VR Escape Games
Simply put, our mission is to create the most amazing VR Escape Games for your guests. Our games focus on player cooperation, teambuilding and immersiveness for a wide audience. Contrary to 'physical' Escape Rooms, our VR Games let your visitors experience thrilling adventures that would be far too dangerous in real-life.
All VR Escape Games will be distributed through dedicated licenses that will grant your location access to additional Escape Games multiple times a year.
Enversed Studios is a creative game studio and frontrunner in publishing high-end Virtual Reality experiences. We are specialized in everything immersive media has to offer: from adrenaline packed VR Simulators to large-scale multiplayer games. Feel free to check out our showcases!
Next to that, we're the creative partner of Enversed Entertainment. Based on this collaboration, we truly believe VR Escape Games are the next step for your entertainment venue.
First game is expected to arrive Q4 2020
Available game modes: 2, 3 and 4 players
Exclusively available for
Escape Rooms
Virtual Reality Arcades
Entertainment Centers
Moving on to pressing matters.
What's in it for you?
More returning customers
Since we publish multiple games a year, you get to offer many types of Escape Games without having to switch rooms, assets or hardware.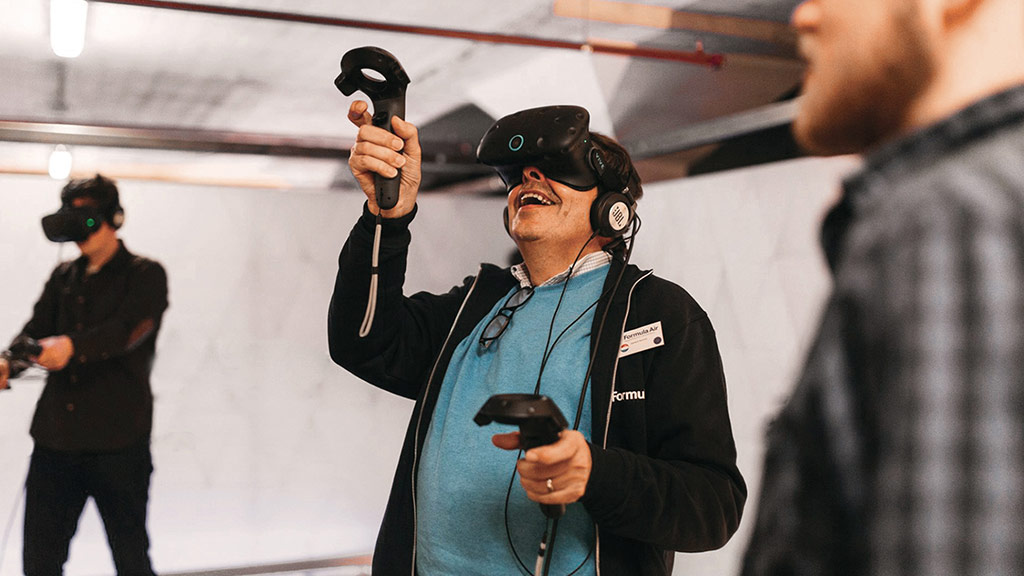 A proven formula
Escape Rooms are succesful all around the globe. Our virtual counterpart makes it an even more sustainable asset to your entertainment venue.
Endless possibilities
VR removes all physicial limitations. Your guests can visit epic locations and perform dangerous stunts without taking any actual risks.
"You're no longer limited to physical rooms and props. Operate as many VR Escape Games as you want, wherever you want."
Is your location interested in distributing our VR Escape Games? Just fill in the form below so you'll be able to participate in our game design survey. This allows us to develop the best experiences suited to your business. As we're not a fan of spam either, we won't bother you with more than three questionnaires.
Register now!
Let's show it in a timeline.
So, how will these
VR Escape Games work?
We're here for you.
We hope our FAQ covers some of your questions. Are you in dire need of additional information? No problemo. Just send a message to [email protected] and we'll get back to you as soon as possible. We're available from 09:00 to 17:00 (CET) during weekdays.
Meet the team!
Should you want to know more about us, you're welcome to pay us a visit! Our studio is based in Eindhoven (The Netherlands). We would love to show you our work environment, development team and VR Games. Just contact us to make an appointment.
Contact us
Interested in our VR Escape Games?
Register your venue!
Seems like you've made it to the bottom of this page. We sincerely hope this indicates your interest in distributing our VR Escape Games. Please fill in your contact details so we can send you our questionnaire. That way, you can tell us exactly what VR content you need.
Rest assured, sending us your contact details won't commit you to anything. As our license models are currently in development, we'll cross that bridge once we get there.
Thanks to you, we truly believe we'll be able to develop the best Escape Games we have to offer.