GEVA Vastgoed: 3D visualization
An interactive real estate visualization.
A new reality for real estate.
As a real estate developer, you sell more than just a simple property. It's all about guiding potentials buyers during their search for a new home or a new office. Enversed Studios developed a VR tour for GEVA Vastgoed to promote their Strijp TQ property. Thanks to the 3D visualization, potential buyers were able to explore several offices before the renovation was even completed.
Research shows that many people find it difficult to visualize spaces like rooms or buildings. It requires spatial insight to imagine what a property looks like before it is completed. GEVA Vastgoed was searching for a tool that allows buyers to experience the TQ property while it was being renovated.
VR shows a property's potential
Enversed Studios has developed a VR tour in which users were able to walk in and around the TQ property. It served as a perfect tool that allowed potential tenants to visualize a representation of their future office. We also decorated a number of offices to match with specific target groups.
Presales have never been easier.
Thanks to the VR experience, the Strijp TQ presale could start before its renovation was completed. In the VR environment, potential buyers and tenants were able to take a good look at how their future office would turn out. People got a real feel for the scale and architectural quality of the building.
More about Strijp TQ
A powerful 3D visualization.
Enversed Studios is able to develop a VR experience from any BIM model. Our efficient conversion methods ensure that we can convert BIM files to VR compatible models for a very competitive price.
By using a VR controller, potential buyers and tenants are able to create virtual notes. They also have the ability to take pictures of the VR environment. Afterwards, these images can be viewed and forwarded to others.
No other medium is able to showcase a real estate property as engaging and compelling like Virtual Reality. A virtual environment can be furnished with selectively chosen furniture to make the VR experience even more personal and inviting.
From a static 3D model to a captivating VR visualization.
Over the years, we have gained the necessary experience with VR for real estate projects. Our clients value our very own in-house architect who can help during projects, even when your plans are just concepts. That's why we can help you during any stage of your real estate project.
GEVA Vastgoed provided us with many different artist impressions. We also received the property's BIM model. Thanks to these deliverables, our development team was able to start the development of the VR experience.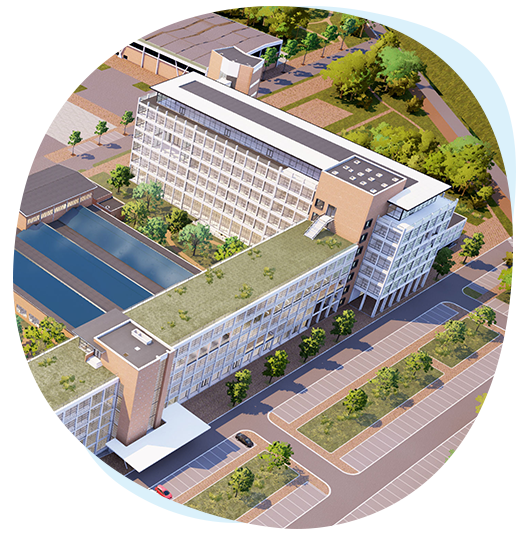 A VR visualization must be able to convey the correct info. With that in mind, we first determined what interactions were required. That way, we knew exactly how we had to transform the BIM model to an optimized 3D environment.
Presentation is half the battle
The VR experience was showcased in the GEVA visitor center. We built a VR setup in which visitors were able to experience the TQ property while discussing the possibilities with GEVA Vastgoed's account managers.
Efficient standard products
We offer VR visualizations as a standard products. That is why we can offer them at a competitive price. Ready to get started?
Artist impressions
or a BIM model
or an interior description
or a brandbook
Do you prefer a customized VR visualization? No problem! Based on a single 3D model, we can deliver many different products for you.
VR tours
360° tours
Animations
Artist impressions
Curious about
the possibilities?
You are looking for a partner who is involved in your business process. A studio that can filter the latest technologies and translate them into valuable solutions for today and tomorrow. Make an appointment for a free consultation or call us to discuss the possibilities that serve your business. We would love to hear from you!