A digital environment that brings people together
After months of Zoom and Teams meetings without any real interaction, people want to gather and feel that human connection again. Yet a big congress, event or exhibition is not going to happen for the time being. However, as an event planner, director or trainer you want to be able to organize and host such things. We collaborated with Dieter.nl and Zes Events with the shared ambition to bring back real and natural interaction in a digital platform. So, GoMeet was born. A digital campus where human connections take place that brings people together.
A digital campus that facilitates meetings
The digital campus of GoMeet offers the opportunity to experience real contact and interaction with each other. Various classrooms, presentation rooms, and exhibition floors give you the freedom to organize and host large-scale events, efficient work sessions, high school orientation days or even a birthday party. No matter how big or small your event is. You name it, anything is possible!
GoMeet is a game environment that's accessible to everyone. Because no Virtual Reality system is needed, GoMeet can be used without expensive hardware. Every visitor simply downloads the application, logs in on a desktop or laptop and has access to the platform. Everything is taken care of, from technical preparations to welcoming your visitors and helping them navigate through the digital campus.
The ease and fun of digital events.
As mentioned before, the opportunities in the Digital Campus are endless. Whether you want to organise a short work session, a multi-day event, a workshop or a party. GoMeet supports events in many shapes and sizes.
When entering the platform, you have to create a personal avatar with whom you can walk around the campus. Things like skin tone, facial shape, clothes and hair colour can be customized to create an avatar that looks like you.
While walking through the campus you will notice that the interaction feels very natural. The controls are easy to handle and the spatial audio makes it feel real. By approaching other visitors who are having a conversation, you start picking up what they're saying and can chat along. You have to stay close to your audio source, just like in real life.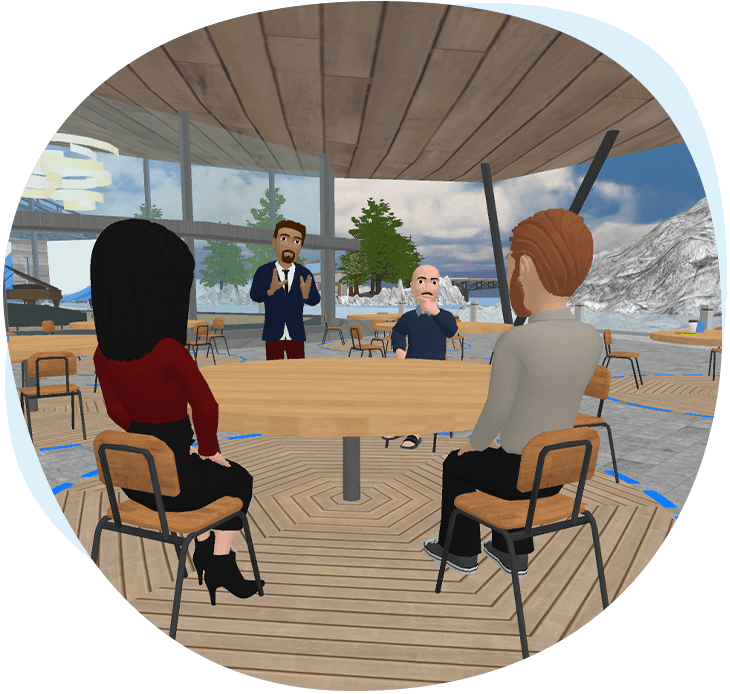 Real conversations and interaction.
You will truly feel connected with others. The interactive game environment in GoMeet feels so familiar that it encourages you to have a real conversation and interaction. Visitors are able to shake hands, talk live to each other or even dance together with a personalized avatar. Thanks to the interaction and an element of fun that's added to the platform, participants won't take on a passive role but feel engaged instead.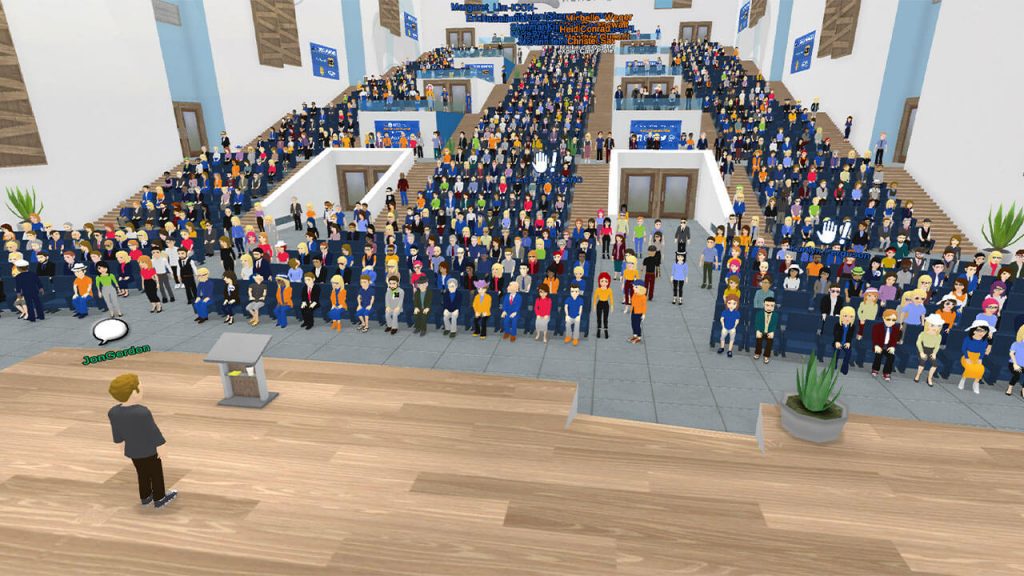 Your event starts with some preparation. We choose a suitable location within the campus depending on the scale of your event. All of the locations can be customized. You're able to show websites, share your screen or broadcast multiple webcams on the presentation screens. Even the size and arrangement of a location are adjustable, so everything is set the way you like. More or fewer tables and seats? A bigger space? It's all possible. Event planning was never this easy!
Invite, download, install. It's as simple as that! An invitation is sent to your email with a GoMeet download link. All you have to do is create an account and instal GoMeet on your desktop or laptop. When everything is set up and your event is ready to start, you have access to the campus to get to know the system about a day in advance.
On the day of your event, you log in with your account and the event can begin. Your visitors will receive an invitation as well to get access to the campus. As your digital host, we'll be available to guide your visitors through the campus and provide you with technical support.
From instructive virtual trainings to memorable game experiences, Enversed Studios is the perfect partner for your organization.
Bekijk alle showcases.