Philips SmartSleep
360 Cinematic.
Philips SmartSleep is a wearable sleep headband combined with a mobile app. Available since 2018, this product line is clinically proven to improve the quality of your sleep. In order to raise awareness of sleep as a healthy behavior, Enversed Studios was asked to design a 360 cinematic to show the effects of sleep deprivation.
A 360 Cinematic captures the full attention of visitors. They are immersed into your story in the blink of an eye.
Our challenge
Our goal was to convey the effects of sleep deprivation. Through 360 cinematics, we can simulate the effects on, for example, your driving habits. This enables us to raise awareness of the dangers that may, at first glance, appear innocent.
Our solution
We created a high-end, fully immersive 360 cinematic in which we allow users to assume the role of a driver who suffers from chronic sleep deprivation. The VR experience received extremely positive reviews, particularly for the exceptional lifelike quality.
Thanks to our custom made 360 app, the cinematic stops and restarts automatically as soon as a new user is detected. This removes the need of a dedicated VR operator entirely. It also works perfectly without a controller.
In contrast to real-time VR experiences, 360 cinematics use pre-recorded or animated footage. This allows us to achieve an incredibly high level of realism using lifelike graphics.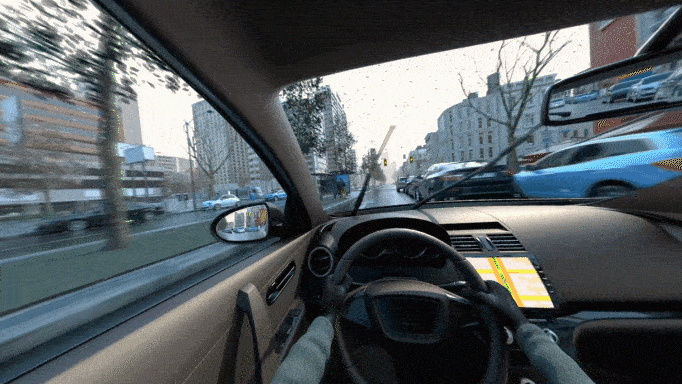 360 cinematics immediately capture the full attention of visitors. In this state of undivided attention, our 360 environments become the ultimate stage to deliver your key brand message.
Seeing things from a different perspective.
Our 360 experience is specifically made for you to assume the role of a fictional character. Content like this enables you to experience certain topics from a completely different perspective. These types of immersive experience are memorable, expecially when you compare them to traditional media like 2D videos.
360 Cinematics help us to raise awareness of dangers that may look innocent.
From interactive training apps to large-scale multiplayer VR games, Enversed Studios is the perfect production partner for your business.
View all showcases