The Lux Lab is an innovative and independent lighting design agency. They are specialized in composing night time sceneries for public spaces such as markets. As their VR production partner, Enversed Studios was asked to translate their lighting plan into an interactive Virtual Reality experience.
Read more
"Our VR Visualisation was able to envision a common goal for civil servents, entrepreneurs and property owners."
Our challenge
In order to add value, our task was to visualise a complete new lighting plan without losing any characteristics of the Breda market area. That's exactly why we adopted a workflow in which we could add pre-existing footage to our real-time VR experience.
Our solution
Enversed Studios has created an interactive room-scale VR setup. Thanks to our control system, users are free to explore the Breda market area at their own pace. Next to this real-time VR experience, we've also developed a desktop app and 360 tour.
Visualising
a common goal.
Many different parties are involved while (re)designing public spaces. In this case, our interactive VR Visualisation proved to be effective as it was able to envision a common goal for civil servents, entrepreneurs and property owners.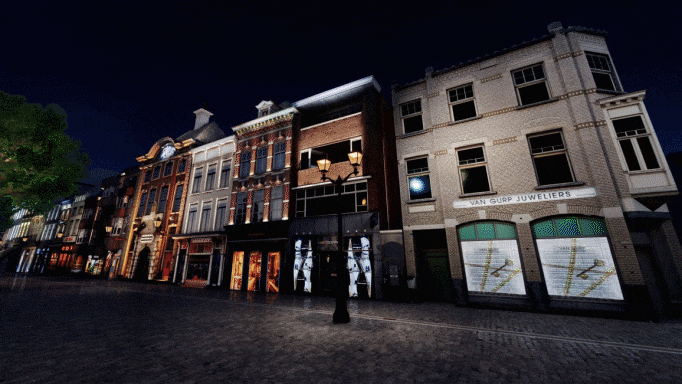 During the development process, photographic footage was used as the foundation of the 3D environment. By adding volumetric lighting, we were able to create a realistic level design without impacting performance.
We have decided to keep our visualisation tool accessible without the need of a VR headset. By adding a desktop mode, the new light plan can be explored by simply using a regular monitor or TV screen.
Interactive VR setups are difficult to distribute on a larger scale. Based on the same 3D models, we were able to easily recreate the light plan into a 360 Tour. This format is accessible through many different platforms and devices that don't rely on VR headsets.
From interactive training apps to large-scale multiplayer VR games, Enversed Studios is the perfect production partner for your business.
View all showcases
Are you convinced?
Let's grab a coffee.
Interested in working together? We'd love to hear more about you and we'd love to share more of our work. So give us a call, drop us an email or, better yet, simply use the form and we get back to you very soon!