Interactive methods to test, improve, and customize your products or locations by gathering valuable user feedback.
Schedule a demo
I have an idea or design that I want to validate before working on the final product.
A virtual prototype of your idea gives others an accessible way to observe, interact, and give valuable feedback.
I want to improve a product or location based on substantiated information.
Configurable digital tools let you try out different iterations of your product or location, and see in which ways you can improve.
I want to create support for my designs among important stakeholders.
A tailored solution lets you show your design in a uniquely engaging way, so you can impress, convince, and excite stakeholders.
I want to simulate how my product or location would function.
Interactive tools let you simulate your product or location virtually, so you can see how they'd work without needing a prototype.
NS virtual reality research
Nederlandse Spoorwegen (Dutch Railways) was creating a new line of train interiors, but needed a way to evaluate their designs realistically without actually building them. That's where we came in. We created a VR research app that immerses participants in a virtual train interior of the future, allowing them to explore and provide valuable feedback. Our backpack VR solution removes all physical limitations, allowing for a perfect sense of spatiality and complete immersion. The app enabled users to provide accurate and detailed feedback on the train's interior design.
"We gathered meaningful results and user feedback thanks to realistic behavior.
Schedule a demo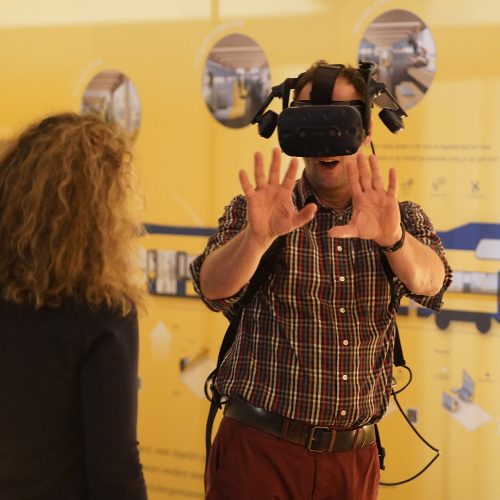 Breda VR lighting plan
The Lux Lab is an independent lighting design agency that specializes in composing night time sceneries for public spaces like markets. They challenged us to create an immersive Virtual Reality experience that showcases their innovative lighting designs for the iconic Breda market area. We accepted the challenge and delivered a stunning real-time VR experience that captures the essence of the market while visualizing a brand new lighting plan. With our control system, users are free to explore the market area at their own pace. We also developed a desktop app and a 360 tour, providing even more ways to experience the lighting plan for the Breda market area.
"Our VR visualization was able to envision a common goal for civil servants, entrepreneurs and property owners.
Schedule a demo
VR research simulations
Allow important stakeholders or test groups to observe and interact with your product in virtual reality. This way, you can gather valuable user feedback to perfect your product, while directly involving your target audience in its development.
Prototype visualizations
Showcase a virtual prototype of your product. This allows you to generate interest and gather feedback without needing a physical prototype. You show your prototype remotely to anyone on the globe, without any travel or transport expenses.
Virtual environments
Let stakeholders explore and interact with your envisioned designs or plans for a location freely. This engaging experience creates excitement and support for your ideas, but also makes it easier for stakeholders to give their opinions.
How does a research or validation tool work?
These interactive tools can vary between highly engaging VR simulations or easily accessible web-based applications. VR lets users engage with your product or location in a more personal way, while you can observe their natural behavior for valuable insights. However, a web-based design can be used from any web browser, allowing you to reach a much larger audience. We can help you choose what works best, based on your needs and goals. Depending on how complex your ideas are, it might even be possible to make it compatible with both VR and web browsers.
Are you convinced?
Try it out yourself!
Or discuss your ideas with us.